.
The week on Just Magnolia Challenge & hAnglar & sTanglar Challenge we are sponsored by Simon Says Stamp with a $25 voucher to the lucky winner.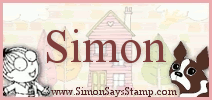 The challenge is Anything Goes (yes we had anything goes last week as well but when the challenges were planned we had not decided on the monthly theme for our Special Monthly Challenge staying as Anything Goes).  But this week there is the option to use Buttons on your project.
It was lovely to colour up one of my beloved Tildas again seems ages since I have used her.  Today she has been coloured with Copics and has had copious amounts of Stickles Diamond added to her Apron.  The papers were a real find I found at a rock bottom price at The Range , the are by Docrafts and are part of their V&A collection this pad is called Inspired.  I have had the lace for ages and I am not sure where I bought it from but I have a feeling it was from dear Tab at Tabbycrafts.  The Gold Butterflies are from Eggstranzaganser. 
Wild Orchid Crafts Flowers as usual which have also had Diamond Stickles add around the edges.
Copics Used:  Flesh E21, E00, E000, Dress R02, R01, R00, Hair & Basket E74, &1, E70, E40
Have a good day
Hugs
Jacqui xxxx