Another Lili of the Valley Sneak Peek for you today, as I said on my last post there are 2 new sets of girl stamps, this is from the second set "Tea and Chat"  and is called "Time for A Cuppa", these new  Girlie Stamps and the sentiments will be on sale at the NEC from 4th November and on the website from 12th November.
Somewhere here in Mums house there is a photo of me when I was about 3 wearing a Turban and Pinafore  helping my Nan doing the washing in an old tin bath  and when I first saw this image it bought back so many memories of my childhood with the best Nan in the world,  we didn't have much money and no electricity, just gas light and an old copper boiler and wash day was always Monday.  I am sure it was a chore to Nan but to me it was the best time of the week I was allowed to play with Soap and Water and make a mess!!!! I will try to dig out the photo and post it on here.
I have used Copics to colour Rosie, the papers are a Nitwits download, the borders are punched with a Martha Stewart Border Punch, the 10mm Roses are from Wild Orchid Crafts, ribbon from Stash and Teapot Charm from Whiff of Joy .  The Sentiment is from the New Sentiments Collection being released at the same time as the Girlie Stamps by Lili of the Valley.
The Copics used are:
Flesh E21, E00, E000, E0000
Hair  E53
Dress, Turban, Teapot, R83, R81, RV000, RV0000, YG 25, YG23, YG 0000
SCACD Stamps are adding a fantastic new artist to their range, which currently includes the wonderful and popular Elisabeth Bell and Victoria Case.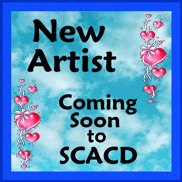 As the UK online exclusive store for SCACD Stamps, Elaine at Quixotic Paperie  will have the new stamps available  on release day – Friday 29th October 2010.  The Quixotic Paperie Design Team will also be joining forces with the SCACD Design Team for a big release day blog hop packed with inspiration and prizes!  Keep your eye on the Quixotic Inspirations blog for details!
In the meantime, you can put yourself in the running for some superb prizes!  Over at the Quixotic Inspirations blog you can enter for the chance to win the whole new artist collection!  That's SEVEN gorgeous stamps plus a couple of little extras.  PLUS if you also visit the SCACD Store Blog you can enter for even more chances to win all the new stamps! 
ONE chance to win the full collection of new artist stamps at the Quixotic Paperie Store Blog
(draw ends 8pm UK time 28th Oct 2010)
FOUR chances to win the full collection of new artist stamps at the SCACD Store Blog
(draw ends 11pm EST 28th Oct 2010)
Don't miss out on the chance to get your inky fingers on some yummy new rubber!
Hugs
Jacqui x